A Captured Moment by Rod McIntosh
Curated for Terrace Grill & Bar by Caiger Contemporary Art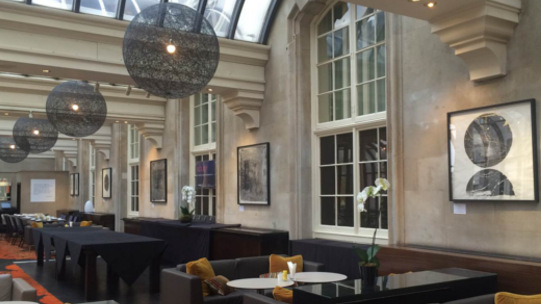 Le Méridien is pleased to present the works of Rod McIntosh, curated by Caiger Contemporary Art, in this fantastic solo show entitled 'A Captured Moment'.
As a mark maker McIntosh lies within a tradition of drawing and recording his experience of the world, his travels, relationships and sense of self. His process and methods developed as rules that slowly became a habit or creative ritual.
The choice of materials evolved through this journey. His desire to maintain a strong integrity within his work directed him to learn the recipes for gesso where he found the physical, tactile, step-by-step method reassuring it was a nod to his "maker" roots as he felt he could truly construct his works.
He says; "I wanted as much control of the provenance of the materials as I could get." Continued research into the history of mark-making pointed to an honesty that he chose to draw with.
If you have any questions about the exhibitions, artists or artworks then please contact Caiger Contemporary Art on 020 3287 4411 info@caigerart.com